TEL AVIV (Sputnik) — The Israeli Cabinet decided early on Wednesday to send troops to patrol its cities in the wake of deadly Israeli-Palestinian clashes in the country, and gave police the right to impose a blockade on certain areas of Jerusalem, which is the epicenter of the current outbreak of violence.
"Israeli police have been given the right to impose a blockade… on centers of tension or incitement in Jerusalem, consistent with security considerations," the Cabinet's statement reads.
According to the statement, the Israeli Special Forces will be deployed to fortify the Israeli police units in the cities and along highways.
The move comes a day after three Israeli nationals were killed and at least 17 injured in shooting and stabbing attacks in Jerusalem and central Israel on Tuesday. 
Following the attacks, Israeli Prime Minister Benjamin Netanyahu said that the country was preparing a set of measures to counter terrorism amid recent developments, adding that the government would use all measures necessary to restore peace in Israeli cities.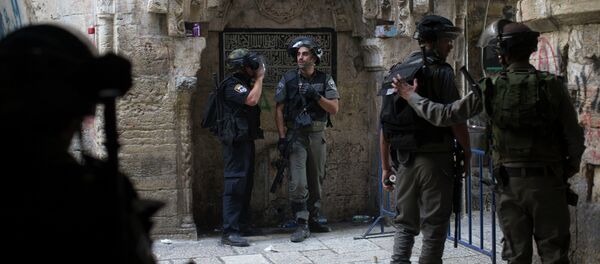 13 October 2015, 08:06 GMT
In total, since the beginning of October, at least seven Israeli nationals, as well as dozens of Palestinians, have died in clashes, including knife stabbings mostly initiated by Palestinians, some of whom were killed or wounded by the Israeli police.
The core of the long-standing Palestinian-Israeli conflict is essentially a struggle over land. Palestinians are seeking the recognition of their independent state on the West Bank, including East Jerusalem, and the Gaza Strip, territories partially occupied by Israel.
The international community did not recognize the annexation of East Jerusalem by Israel following the 1967 Six-Day War.