Maria Zakharova stressed that Russian Foreign Minstry "will stop all the attempts to politicize" the MH17 crash in Ukraine. 
"Russia wants more than anyone else to discover the truth behind the MH17 tragedy," Zakharova pointed out. 
Russian Foreign Ministry spokeswoman criticized the Dutch foreign minister's remarks  about Moscow "confusing" the investigation.
"Regarding the "confusion", what the Dutch side presumably meant is that they themselves didn't have any clear answers," Zakharova retorted.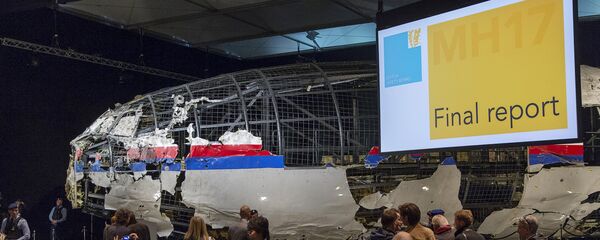 14 October 2015, 10:46 GMT
The Netherlands categorically demanded a phone call with the Russian Foreign minister Lavrov the day the MH17 report was launched. 
On Tuesday, the Dutch Safety Board, tasked with investigation of the crash, released its final report which reiterated that the aircraft was shot down using a Russian-produced Buk surface-to-air missile. The organization did not identify the exact location from where the missile was launched. 
Immediately after the plane crash, Washington and its Western allies accused militia forces in eastern Ukraine of using a Russia-made missile to shoot it down. Militia fighters denied the claim, saying that they did not possess weapons capable of bringing down an aircraft flying at 32,000 feet.
According to the Dutch Safety Board report, the Malaysian aircraft crashed as a result of a 9N314M-model warhead carried on a 9M38-series surface-to-air Buk missile. It was fired from anywhere within a 320 square kilometer (123 square mile) area of eastern Ukraine, the report said, without specifying who was responsible for the launch. The board ruled out the use of air-to-air missiles, an earlier rival theory.