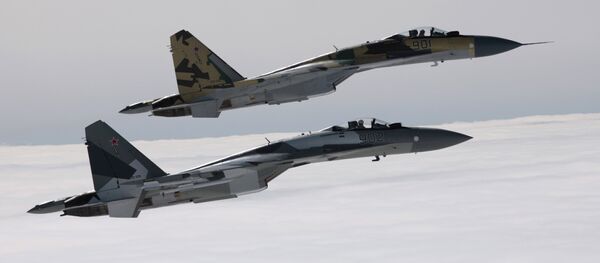 A Russian Aerospace Forces regiment stationed in the country's Rostov region got its first three sophisticated Su-30SM fighters, according to the press service of the Southern Military District.
The press service said that twenty more such warplanes will be delivered to the Rostov regiment before the end of this year.
Mikoyan MiG-29SMT jet fighter aircraft
© Sputnik / Anton Denisov
/
Experts from the Center for the Analysis of Strategies and Technologies have, meanwhile, argued that the regiment is the last Russian Aerospace Forces unit to still include the Soviet-made MiG-29 fighters.
The experts referred to the unit as the 31st Fighter Aviation Regiment of the 1st Mixed Air Division of the Russian Aerospace Forces.
Su-30SM fighter
© Sputnik / Maksim Blinov
/
They said that in light of the planned deliveries of the Su-30SMs and MiG-29SMT to the Rostov regiment, it is already safe to say that the "career" of the MiG-29 fighters in the regiment has come to a close.
The MiG-29SMT is an improved version of the MiG-29 Fulcrum fighter aircraft, designed by the Russian Aircraft Corporation MiG.The plane is equipped with high-precision air-to-air and air-to-surface weapons, which can deliver high combat efficiency against aerial-, ground-, and sea-based targets. The aircraft incorporates enhanced cockpit and avionics, additional fuel tanks, an upgraded engine, and increased weapons carriage capacity.
Su-30MK
© Sputnik / Ilya Pitalev
/
As for the Su-35SM, it is a super maneuverable multirole 4++ generation Russian jet fighter. It was developed by the Sukhoi Design Bureau as a modernized version of the Su-30MK fighter family.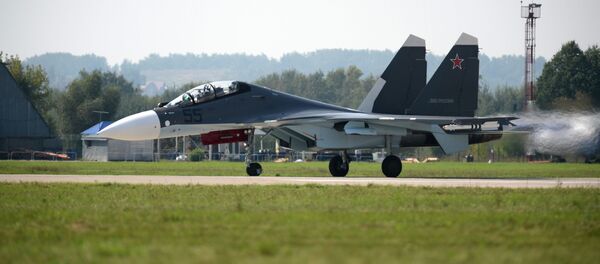 4 September 2015, 09:23 GMT
Its equipment has been adjusted to meet the requirements of the Russian Aerospace Forces, including its radio-radar and communication systems, modernized ejection seat as well as advanced support systems.
On August 1, 2015, the Russian Air Force, along with the Aerospace Defense Forces and the Air Defense Troops, was merged into a new branch of the Armed Forces: the Russian Aerospace Forces.
According to Russian Defense Minister Sergey Shoigu, "the single command unites aviation, air defense and anti-missile defense troops, space forces and means of the armed forces."