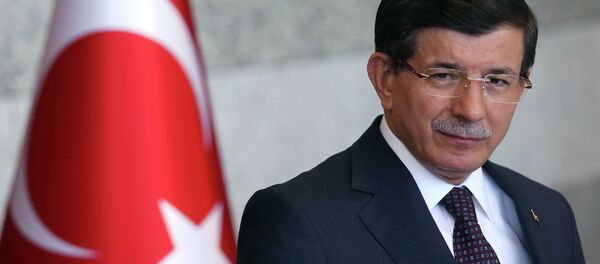 15 October 2015, 12:43 GMT
MOSCOW (Sputnik), Daria Chernyshova — The $3.4 billion in financial aid the European Union will provide to Turkey to manage the refugee crisis will place a significant financial burden on European member states, a member of the European Parliament from UKIP told Sputnik Friday.
On Thursday, the European Union and Turkey agreed on an action plan to provide Ankara with up to $3.4 billion in aid, ease EU visa restrictions on Turkish citizens and expedite Turkey's accession to the bloc in exchange for cooperation on stemming the ongoing enormous refugee influx to Europe.
"It is madness because of the economic position for a start. $3 billion is six fold on what the initial estimate of the European Commission was. And this is going to put a huge financial burden on the European member states," James Carver said.
Carver said that the migration issue should be separate from Turkish membership in the European Union, because at the moment the deal is "opening up a bribe to Turkish for potential accession to the European Union, and in the short term free movement in the Schengen area."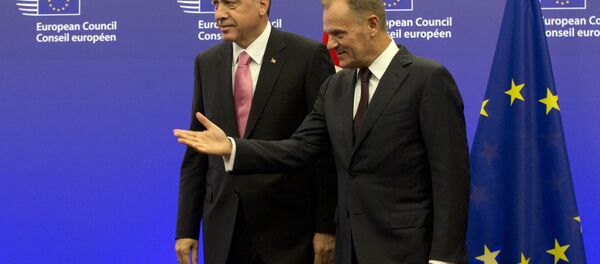 16 October 2015, 10:40 GMT
He suggested that the European Union instead focus on ending the four-year Syrian civil war, so that the refugees can return home and rebuild their country.
Amid what has been called the largest migrant crisis since World War II, Ankara has declared an open-door policy for refugees, spending some $7.6 billion to date to host approximately 2.2 million Syrian refugees, according to Turkish Deputy Prime Minister Numan Kurtulmus.
The Turkey-EU deal was forged by Turkish leader Recep Tayyip Erdogan and European Commission President Jean-Claude Juncker. Juncker said the action plan will ensure that refugees currently in Turkey stay put. The deal will also provide guarantees that no refugees pass via Turkey to EU member states.