"The dog still not barking is the absence of evidence from US spy satellites and other intelligence sources that Secretary of State John Kerry insisted just three days after the shoot-down pinpointed where the missile was fired, an obviously important point in determining who fired it," Robert Parry wrote for Consortiumnews.com.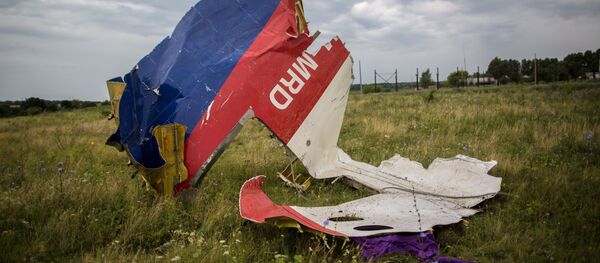 17 October 2015, 05:58 GMT
On July 20, 2014, Kerry declared on NBC's "Meet the Press" that "we picked up the imagery of this launch. We know the trajectory. We know where it came from. We know the timing. And it was exactly at the time that this aircraft disappeared from the radar."
But such US government information is not mentioned in the 279-page Dutch report, which focused on the failure to close off the eastern Ukrainian war zone to commercial flights and the cause of the crash rather than who fired on MH17.
A Dutch criminal investigation is still underway with the goal of determining who was responsible but without any sign of an imminent conclusion.
The release of the Dutch report without any of the crucial US intelligence data indicates that the US government continues to hide what evidence it has, Parry noted.
"That missing evidence remains the dog not barking, like the key fact that Sherlock Holmes used to unlock the mystery of the 'Silver Blaze' when the sleuth noted that the failure of the dog to bark suggested who the guilty party really was," Robert Parry wrote in conclusion.
Investigative reporter Robert Parry broke many of the Iran-Contra stories for The Associated Press and Newsweek in the 1980s.