Harshaw maintains that Russia could have fired the missiles from the Mediterranean if military goals were the only consideration. Instead Moscow opted to launch missiles from the Caspian Sea "simply to show they were capable of doing so. The US and its allies should be warned: Vladimir Putin notched another success," he noted in an article titled "Putin's Navy Sends a Shot Across Obama's Bow."
© Russian Defense Ministry
 / Go to the mediabank
Caspian Flotilla ships fire missiles to attack ISIL positions in Syria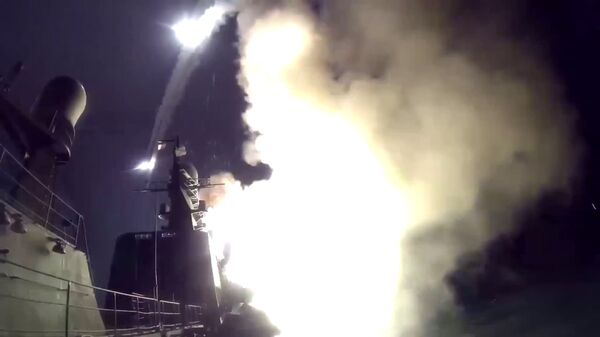 Caspian Flotilla ships fire missiles to attack ISIL positions in Syria
© Russian Defense Ministry
/
But it was not the use of cruise missiles in itself that shocked Washington but the combination of this type of guided rockets and the armed corvette warships that fired them.
"The revelation was that Russia had combined the two: giving the relatively small ships – the Buyan-M class displaces just 950 tons – firepower comparable to much larger US Arleigh Burke-class destroyers and Ticonderoga-class missile cruisers. By using the corvettes and the Kalibr NK cruise missile system, the Kremlin sent a shot across America's bow," Harshaw explained.
Moscow had two goals in mind, the analyst stated. The first one was to demonstrate what is known as distributed lethality warfare which is based on the idea that a country has to spread its weapons and military technology across smaller units in order to increase its capabilities.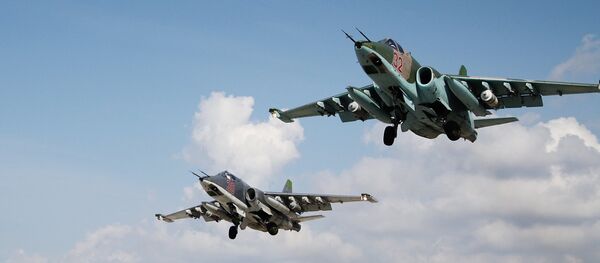 17 October 2015, 08:20 GMT
The Buyan-class corvettes are a fine example of a smaller unit, however, it is not the only one Russia has in store.
Moscow "is reportedly renovating and adding to its fleet of Cold War-era Piranya mini-subs that can lay underwater mines, fire torpedoes and dispatch small underwater combat teams. With a minuscule displacement of 390 tons and a titanium-alloy hull, they run virtually silent," Harshaw stated.
Secondly, Moscow sought to impress potential buyers of Russia's military equipment, according to the expert.
"No surprise that exports of major [Russian] weapons increased 37 percent between 2005 and 2014. The offerings include the Klub-K cruise missile system, a version of the Kalibr that fits into a few shipping containers and retails for up to $20 million," Harshaw noted.