MOSCOW (Sputnik), Anastasia Levchenko — Canada should reboot its relations with Russia, as Moscow is an important partner in combating global terrorism, Adam Smith, Green Party candidate in the upcoming elections, told Sputnik.
"We need to scale down the Cold War rhetoric with Russia… Russia's assistance will be necessary in dealing with global terrorism. We should reboot our relationship with the Russians," Smith stressed.
Incumbent Prime Minister Stephen Harper, Conservative, is known for his anti-Russia rhetoric, which deepened amid the Ukrainian crisis. Harper has also provided Kiev with financial and material aid.

16 October 2015, 15:21 GMT
"It seems the Conservatives have been using it to pander to a certain segment of Ukrainians in Canada and ignoring the damage that demonizing someone does to any diplomacy you might try later," Smith said.
The Ukrainian diaspora amounts to around four percent of the Canadian population, and will be a substantial voting support for the Conservatives in the upcoming elections.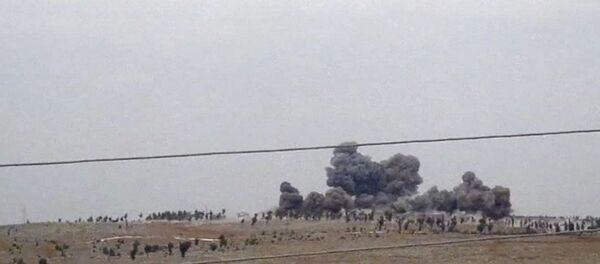 1 October 2015, 17:49 GMT
Federal elections in Canada will take place on Monday. It is highly likely that no party wins a majority in the elections.
Currently, CBC's Poll Tracker predicts a victory by the Liberal Party with some 35 percent of polled popular support. The ruling Conservative party and the leftist New Democratic Party (NDP) have some 30 and 24 percent correspondingly in a tight three-way race according to the polls. The Bloc Quebecois and the Green Party follow the frontrunners.
"I would say it is extremely likely to occur," Adam Smith said, when asked how likely the no-majority outcome was.
The politician added that given this scenario, Canada would move to a Proportional Representation system "if the parties were telling the truth."
"This would make Canadian politics more reactive to the marginalized groups who have traditionally not gotten much say," Smith said.
Smith said that a minority government would also mean his Green Party would become a larger player, bringing more emphasis to the environment issues.