ANKARA (Sputnik) – Speaking at a joint press conference with Turkish Prime Minister Ahmet Davutoglu, the German leader said Europe was ready to accept "only an organized and controlled flow of refugees."
"Turkey has assumed great responsibility for the reception of refugees. We know that Turkey has not received sufficient financial support from the EU. We are ready to share the burden with Turkey," Merkel said.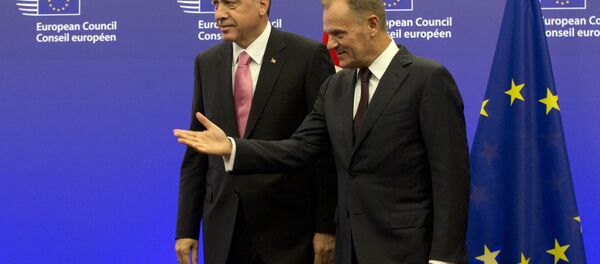 16 October 2015, 10:40 GMT
Brussels had pledged up to $3.4 billion, simplified visa procedures and accelerated EU ascension procedures to Turkey in exchange for cooperation in stemming the unprecedented migrant flow into Europe.
Some 710,000 people fleeing war and poverty in Africa and the Middle East have crossed the European Union's external borders in the first nine months of this year, according to border agency Frontex.