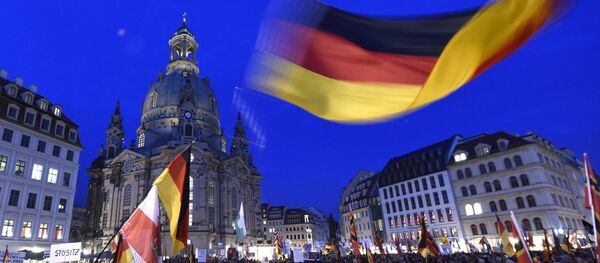 19 October 2015, 14:05 GMT
MOSCOW (Sputnik) — A cameraman with the Berlin-based Ruptly international video news agency was beaten up during a mass demonstration of the migrant-sceptic Pegida movement in the eastern German city of Dresden, the agency said Monday.
"Ruptly producer was attacked by several people during Pegida demonstration in Dresden, his camera broken," the video news service wrote on Twitter.
According to its statement, Jose Sequeira was filming the thousands-strong rally against immigration and the alleged Islamization of Germany when several men ambushed him from behind and snatched his camera away.
Sequeira said he tried to take his equipment back but the assailants continued to punch him in the back and on the head until police came to his aid.
Pegida rose to popularity after a surge in immigration from war-torn Middle Eastern and North African countries. More than 800,000 are expected to seek asylum in Germany by the end of this year.