Korotchenko named Vietnam, Algeria and Iraq as potential buyers but added that other countries, including Kazakhstan, Turkmenistan and Uzbekistan, are increasingly interested in the Su-34 as well. He believes that several Su-34 squadrons could be sold in the next five years.
"Several countries in Africa, including Uganda and Nigeria, which is waging a war against Boko Haram, could buy the Su-34. Strike fighters could also strengthen Ethiopia's Air Force, which operates aging Sukhoi Su-27 fighters," Korotchenko noted.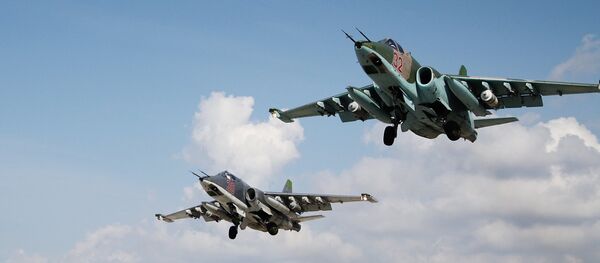 17 October 2015, 08:20 GMT
On September 30, Russia launched a multinational aerial campaign aimed at assisting Damascus-led forces in their fight against terrorist groups, which are trying to oust President Bashar al-Assad. The operation was authorized by legitimate Syrian authorities.
As part of these counterterrorist efforts, air group, consisting of Sukhoi Su-24M attack aircraft, Sukhoi Su-34 strike fighters and Sukhoi Su-25SM jets, conducted approximately 550 sorties destroying militant terrorist command centers, ammunition depots, underground bunkers, field camps and strongholds.
Based on Sukhoi Su-27, the Su-34 is a 4++ generation jet, which can accelerate to a maximum speed of 1,200 mph and has a maximum range of 2,500 miles without refueling.
© Sputnik
The Su-34 Strike Fighter

The Su-34 Strike Fighter