Home Secretary Theresa May says the 'Counter-Extremism Strategy' will "systematically confront and challenge extremist ideology." Critics, however, have responded by calling it "incoherent" and displaying "a naivety about the nature of Islamic radicalization."
The strategy has been accused of "alienating" Muslims in the UK by the Muslim Council of Britain. It includes a full review of public sector institutions, including schools and the NHS to make sure they are protected from "entryism" or infiltration by extremists.
The government will also introduce 'Extremism Disruption Orders' to stop people from engaging in extremist behavior.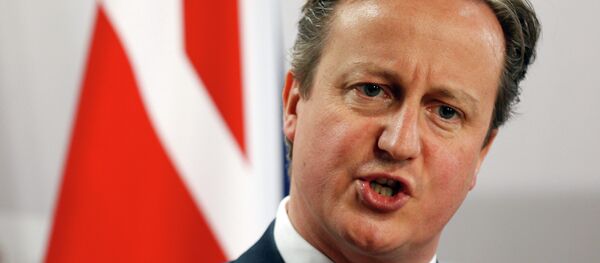 19 October 2015, 07:04 GMT
Tougher powers will also be given to media watchdog Ofcom, to take action against radio and television channels broadcasting extremist content.
The government will also increase its demands on Internet service providers (ISPs) to assist in removing any online extremist material and identify those who are responsible for it.
Prime Minister David Cameron said the plan was "comprehensive", adding that, "it's no good leaving this simply to the police or the intelligence services.
"It's no good simply talking about violent extremism. We need to confront all extremism."
But the Muslim Council of Britain said the strategy would "reinforce perceptions that all aspects of Muslim life must undergo a 'compliance' test to prove our loyalty to this country."
Secretary general Dr Shuja Shafi said:
"These measures could be seen more as a means to address the anxieties a minority of people may have against Muslims and their religious life, rather than the scourge of terrorism itself."
The Islamic Human Rights Commission (IHRC) has responded to the government's new approach to countering terrorism in the UK, accusing it of being socially divisive, increasing hate crimes towards Muslims and discrimination towards people in the work place.
IHRC chair Massoud Shadjareh said:
"The extent to which anti-terror laws have become a pretext for removing fundamental rights from Muslims and discriminating against them can only suggest that the present government is engaged in a war against Muslims rather than against terrorism."
And the UK's Christian Legal Centre has accused the government's counter-extremism strategy of censoring certain religious beliefs.
Andrea Williams, chief executive of the Christian Legal Centre said: "The government's Counter-Extremism Strategy betrays a dangerous blindness to the Christian basis of 'British values' and a naivety about the nature of Islamic radicalization.
"We remain very concerned, for example, by the proposals for 'extremism disruption orders'. The definition of extremism, and especially 'non-violent extremism', remains dangerously vague and open-ended. Despite the protestations of government ministers, it casts the net far too wide."
But according to Theresa May, "a new approach is required to tackle this growing threat and protect people from the damage extremists cause. This strategy therefore, addresses the full spectrum of extremism: violent and non-violent, Islamists and neo-Nazi — hate and fear in all their forms."