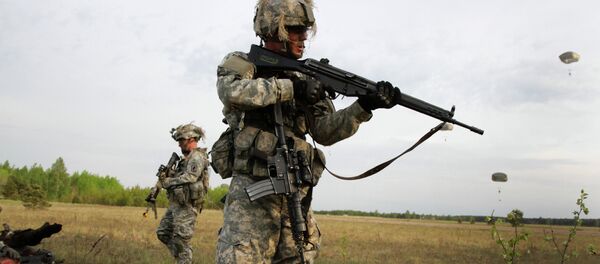 19 October 2015, 07:34 GMT
MADRID (Sputnik) — US State Secretary John Kerry arrived Monday in Madrid for the first official visit after the two countries signed an agreement allowing a permanent US Marine Corps presence at Spain's Moron Air Base. The agreement allows the United States to station up to 3,000 personnel at the base and to boost the number of military aircraft from 14 to 40.
According to Maestro, this extension of the US military presence in Spain, bundled with the deployment of US Aegis ships at its Rota Naval Base and NATO Trident Juncture drills taking place in the European country this fall, "presents Spain as a US vassal" and "violates all standards by which the accession of Spain to NATO was approved" in the 1986 referendum.
"Clearly, these wars are US wars, Spanish people are not interested in them, from any point of view, even from the economic point of view they do not benefit the Spanish people," the spokeswoman said.
She criticized the Spanish government for not explaining reasons for Spanish participation in the US buildup in Europe.
"They say it is a military secret, but they pay for it with public money," Maestro stressed.
Approximately 36,000 personnel from over 30 NATO and partner nations will participate in the NATO Trident Juncture drills taking place from September 28 to November 6 in Spain, Italy, Portugal, as well as in the Mediterranean Sea and the Atlantic Ocean. Some 9,000 are accommodated in Zaragoza.
On Friday, a group of Spanish activists called the Conscientious Objection Movement (MOC) told Sputnik they blocked the passage of military equipment bound for NATO maneuvers in Zaragoza from the port of Sagunto in Valencia.