WASHINGTON (Sputnik) — The videos of drone strikes launched by the US government against Islamic militants in Iraq and Syria should be released to the public per the American Civil Liberties Union (ACLU) request for details of the US drone program, advocacy group Consumers For Peace.org Director Nick Mottern told Sputnik on Tuesday.
"I hope that among the information the ACLU demands will be any and all… video tapes of all drone surveillance and attack missions that have resulted in death or injury," Mottern said.
On Monday, the ACLU sued the US Central Intelligence Agency (CIA) to turn over details of the US drone warfare program, a week after startling contours of the program emerged in a new leak by an anonymous intelligence source.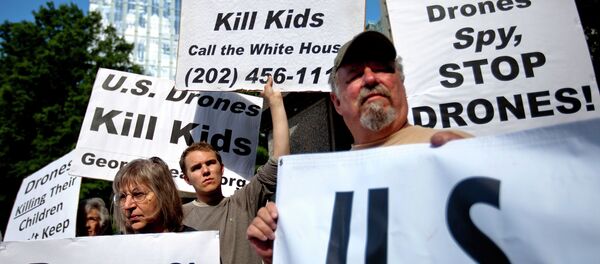 20 October 2015, 17:28 GMT
The ACLU said last week that leaked documents about US drone-strike killings prove that Washington's claims its drone operations abroad are limited to lawful targets are untrue.
"The ACLU suit is extremely important in testing whether US courts will continue to assist the executive branch in covering-up the US drone assassination program, a program based on the wholesale violation of the rights to privacy and due process of tens of thousands of people," Mottern asserted.
Mottern also called for the United States to release CIA as well as Department of Defense internal evaluations of the US drone program about its scope and impact.
Between January 2012 and February 2013, US airstrikes killed more than 200 people in Afghanistan who were later tagged as "enemies killed in action," but only 35 of the killed were targeted individuals, according to leaked data published The Intercept.