MINSK (Sputnik) — The United Nations has prepared 16,000 tons of humanitarian cargo, including food and construction materials, for conflict-hit eastern Ukrainian regions but has not been able to bring it over due to major access challenges, an OSCE representative in Ukraine said Tuesday.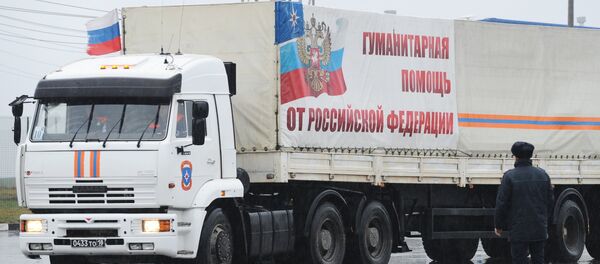 15 October 2015, 02:54 GMT
Martin Sajdik, Special Representative of the Organization for Security and Co-operation in Europe (OSCE) in Ukraine, told reporters that UN aid convoys had been unable to reach some areas of Donetsk and Lugansk regions.
"A total of 16,000 tons of humanitarian cargoes has been prepared, or 800 trucks, but the delivery cannot be carried out," he said at a press conference in the Belarusian capital Minsk.
Sajdik added that access for all major humanitarian aid agencies to conflict-hit Donbass had been blocked since mid-July, with the Red Cross being the only exception. He linked this to an undoing demining operation.
Russia has sent some 50,000 metric tons of humanitarian aid to the population of southeastern Ukraine since the beginning of the armed conflict between Kiev and local militia in April 2014.