MOSCOW (Sputnik) – Russia's Sukhoi Su-25, Su-24M and Su-34 attack aircraft, with the support of Su-30 jets, launched precision airstrikes against terrorist targets in Syria on September 30, following a request from President Bashar Assad. Moreover, Russia launched 26 sea-based cruise missiles from the Caspian Sea targeting ISIL positions in Syria on October 7.
"The result of the operation [in Syria] confirms that Russia is ready to accurately and effectively respond to terrorist or any other threats to our country," Putin said during a ceremony in the Kremlin with top military brass who have just received command ranks.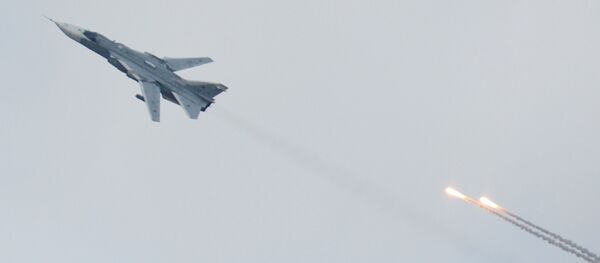 19 October 2015, 11:06 GMT
Terrorists have created a springboard in Syria in order to expand and destabilize entire regions, Vladimir Putin added.
"Having created a springboard in Syria and a number of other countries in the Middle East, terrorists have made and continue to make plans on expansion and the destabilization of entire regions. They have recruited and continue to recruit into their ranks militants from many states, including from Russia and CIS countries, unfortunately."