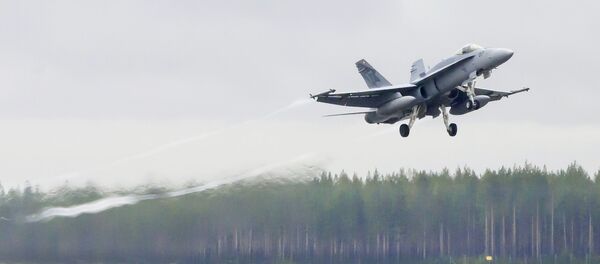 19 October 2015, 16:09 GMT
On Monday, Switzerland confirmed that its F/A-18 military aircraft had neared a plane with the Russian parliamentary delegation on board, but said that it had been performing standard verification procesures adding that "such checks were carried out hundreds of times a year.
The Russian Foreign Ministry said Tuesday that attempts of some Swiss authorities to present the air incident as a verification procesure does not look convincing.
"Attempts of certain Swiss officials to present the incident as a standard verification procedure or 'escorting of a Russian aircraft as an act of hospitality' towards the Russia's parliament head do not look convincing — such actions must be agreed upon in advance in any case."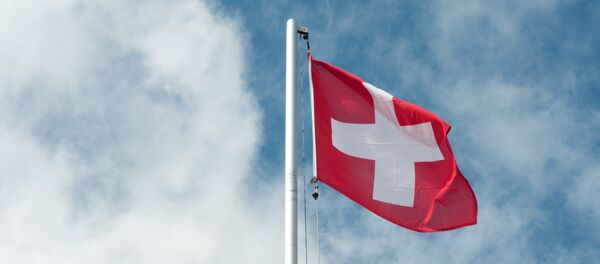 20 October 2015, 10:00 GMT
The ministry added that the Russian side had not been informed in advance about the aerial guard duty with regard to the Russian diplomatic aircraft.
Moscow called on Bern to avoid incident similar to the one, which took place Monday, when a Swiss military aircraft had narrowly avoided collision with a Russian airliner carrying top Russian lawmakers, adding that the move may undermine the reputation of Switzeland as an event venue.
Earlier in the day, the Swiss Embassy in Moscow submitted a written explanation in the form of a diplomatic note regarding the aviation incident.
Swiss embassy's press attache Valentina Anufrieva told RIA Novosti that Switzerland clarified in the note that "it was just an ordinary, routine aerial guard duty," adding that the note was transferred "through the usual diplomatic channels."
"Taking into accont the regret expressed by the Swiss side, we call on Bern to avoid such dangerous incidents and not to put the country's reputation at risk as a venue for important international events," the Russian Foreign Ministry said.
The Russian delegation, led by Sergei Naryshkin, speaker of Russia's lower house of parliament, was heading to the Swiss city of Geneva to participate in the 133rd assembly of the Inter-Parliamentary Union.