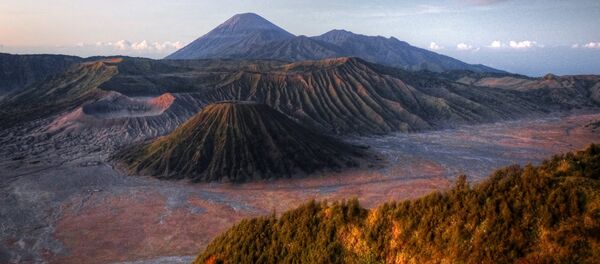 19 October 2015, 03:01 GMT
BALI (Sputnik)
–
On Tuesday, the press service of the Russian Emergencies Ministry said the aircraft departed from the Russian city of Krasnoyarsk following a request by Indonesian authorities. Aircraft crews have been trained to work in difficult conditions and have wide experience in extinguishing fires, according to the ministry.
"The two Be-200 arrived in the capital of South Sumatra Province, Palembang. It is expected that our aircraft will be putting out fires in Indonesia for at least 30 days," Nikolay Karapetyan told RIA Novosti.
A Be-200ES is fully amphibious and can take in up to 12.5 tons of water in a few seconds while traveling on the water's surface.
Last week, Indonesia launched its largest-ever operation to extinguish forest fires. Thousands of people as well as over 30 aircraft are currently involved, according to local media reports.
According to President of Indonesia Joko Widodo, the fire has destroyed 1.7 million hectares of land in the Indonesian part of Borneo, Kalimantan, and Sumatra, an area of about one-third of the total area of the islands.
Fires have affected the lives of over 28 million local residents, and economic damage is currently estimated at $47.5 billion, according to the Indonesian National Board for Disaster Management (BNPB).
Malaysian Bombardier and Australian Hercules aircraft, that had been providing Indonesia with assistance in extinguishing fires, have returned to their countries, the BNPB said earlier on Wednesday.