WASHINGTON (Sputnik) — US defense contractor Lockheed Martin's prospects for selling its F-35 Lightning II stealth fighter-bomber to Canada took a serious blow when Justin Trudeau and his Liberal Party won Canada's general election, according to media reports.
"The aerospace industry had not been a big topic during the election, but [Justin] Trudeau, the Liberal Party's leader, on 20 September declared that if elected 'we will not buy the F-35' and rather would have 'an open and transparent competition'," the IHS Jane's 360 defense journal noted on Tuesday.
Former Prime Minister Stephen Harper's government had pushed for a massive air force buildup and had selected the F-35 to be Canada's next-generation front-line tactical fighter, IHS Jane's stated.
The Harper government also purchased bought Boeing C-17 Globemaster III strategic airlifters, Boeing CH-47F Chinook cargo helicopters and Lockheed Martin C-130J Super Hercules, the report added.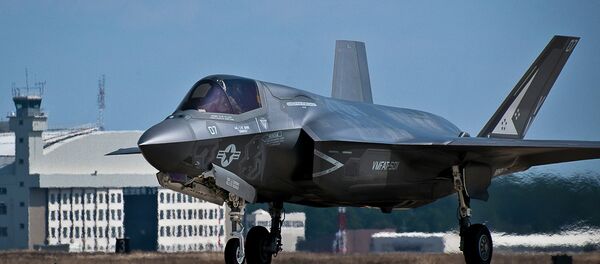 14 October 2015, 23:54 GMT
However, Trudeau also said in his September 20 statement that he wanted to replace Canada's current aging force of F-18 jets with cheaper, more cost-efficient combat aircraft than the F-35 jets, the St. Louis Post-Dispatch reported on Tuesday.
"Pentagon data show the last batch of F-35 A-model jets cost $108 million each, although that price is slated to drop to $85 million by 2018. Boeing's F/A-18E/F currently costs $60million per aircraft, according to the US Navy," the St. Louis Post-Dispatch report stated.
Under Harper, Canada became one of nine countries in the initial F-35 partnership, it the report added.
"The 65 aircraft order sat stake could amount to well over $6 billion in revenue for Lockheed, engine maker Pratt & Whitney, a unit of United Technologies Corp., and other keyF-35 suppliers such as Northrop Grumman Corp. and Britain's BAE Systems Plc.," the report said.
However, if Trudeau fulfils his campaign promise and scraps the F-35 deal, many Canadian firms that supply parts worth hundreds of millions of dollars to Lockheed Martin each year could also lose those orders.