MOSCOW (Sputnik) — European Commission President Jean-Claude Juncker has called for a meeting of EU leaders in Brussels on Sunday to discuss large-scale migration in the Western Balkans, according to a statement published Wednesday on the Commission's website.
"Following discussions with several leaders, European Commission President Jean-Claude Juncker has therefore called a Leaders' Meeting on 25 October to discuss the refugee flows along the Western Balkans route," the statement reads.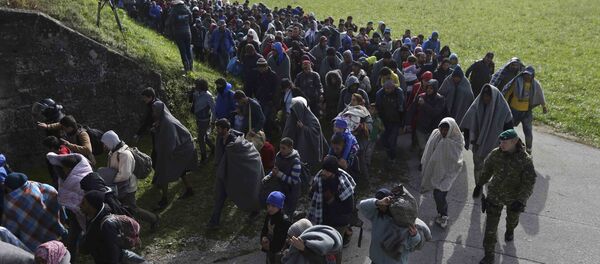 21 October 2015, 05:57 GMT
According to the statement, EU leaders are due to find common operational resolutions for Western Balkans migration flows that can be immediately implemented.
In recent months, Europe has faced a major influx of migrants fleeing war-torn countries in the Middle East, North and Sub-Saharan Africa. The Western Balkans are a frequently used migratory route into the European Union.
A vast majority of migrants and asylum seekers journeying through the Western Balkans since late spring have traveled via Serbia and Macedonia, according to European Commission data.