WASHINGTON (Sputnik) — The US Air Force has ordered $176.1 million contracts for Sniper Advanced Targeting-Pod Sensor Enhancement (ATP-SE) kits to boost the effectiveness of their old targeting pods, defense contractor Lockheed Martin said in a press release.
"Sniper ATP-SE has improved sensors, a two-way datalink and algorithms that increase air-to-ground, air-to-air and maritime targeting capability," Lockheed Martin said on Thursday.
A sniper pod is a device attached to an aircraft that boosts the accuracy of air-to-air and air-to-ground missiles fired from combat aircraft.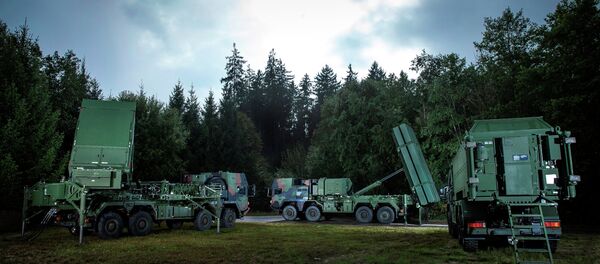 21 October 2015, 23:04 GMT
Lockheed Martin explained the upgrade kits consist of line replaceable units that will be installed in fielded ATPs and deliveries of the pods and upgrade kits will begin in the fourth quarter of 2016.
"With the purchase of new Sniper ATP-SEs and the continued conversion of Sniper ATPs to ATP-SEs, the US Air Force will gain greater targeting capability and performance across its multi-platform fleet," Lockheed Martin Missiles and Fire Control Vice President Paul Lemmo said.
Sniper ATP has been chosen by the US Air Force and 21 customers worldwide, and is interoperable across multiple aircraft.
Lockheed Martin describes itself as a global security and aerospace company that designs and produces advanced technology systems, products and services. The Corporation's net sales for 2014 were $45.6 billion.