On Wednesday, the United States, Britain, France and Germany asked a UN Security Council sanctions committee to investigate the October 10 test-launch of a medium-range missile, calling it a serious violation, Agence France Presse reported.
But Russian Ambassador Vitaly Churkin indicated that Moscow had made no such determination.
"I think we need to be very careful about these things," Churkin said. "We need to look into technical details and then of course take into account the political circumstances. One has to be professional about it. It's not a sensational kind of issue."
The four countries maintain that the missile test violates Security Council resolution 1929, which was adopted in 2010 and prohibits Tehran from conducting launches of ballistic missiles capable of delivering nuclear weapons.
US Ambassador Samantha Power called the test a "provocative launch" and said the "United States considers it to be a serious matter" that undermines regional stability.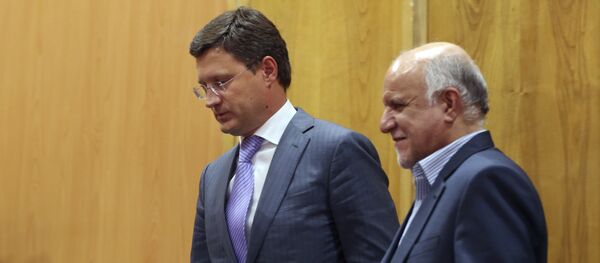 22 October 2015, 16:16 GMT
The four countries presented a report to the sanctions committee making the case that the missile test was a "serious violation" and requesting "appropriate action," according to a joint letter viewed by AFP.
Sanctions from the committee would require agreement from China and Russia.
Chinese Ambassador Liu Jieyi also declined to endorse the US and European view that the missile test violated UN resolutions, saying that officials will investigate the matter.
US officials do not claim that the missile test was a violation of the historic nuclear deal reached with Iran in July. All four countries, along with China and Russia, took part in talks that led to that deal, which calls for lifting sanctions in exchange for curbs on Iran's nuclear program.