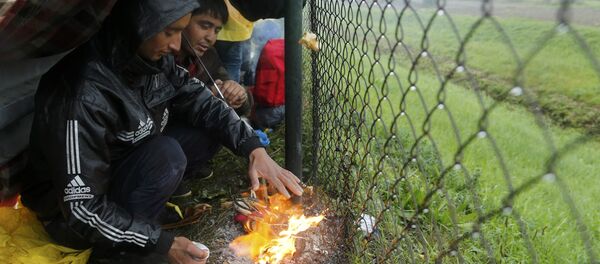 19 October 2015, 11:57 GMT
A group of suspected arsonists attacked another housing facility for refugees; this time a facility was hit in the small town of Oderjunga in southern Sweden. The incident became the latest to take place in several days.
"Taking into account what has happened in the country so far, and also considering that a window was broken, it is easy to suppose that it was an arson attack. However, it is the police's responsibility to find out the cause of the fire," local rescue service spokesman Daniel Sirensjo told the Swedish channel SVT. 
According to SVT, only one room in the building caught fire, and firefighters were able to put it out shortly after their arrival. No fatalities or injuries were reported as the building was empty.
allegedly, there have been over 10 arsons to refugee housing places in sweden. THIS YEAR. my heart is breaking.

— Victoria Inoue (@vickys_se) 20 октября 2015
A similar incident occurred in eastern Sweden in a school building slated to be used to accommodate refugees on Tuesday, when a window was broken and flammable materials were set alight and thrown inside. A refugee facility in western Sweden was burned earlier in the week.
Sweden witnessed similar arson attacks in the early 90s amid a large refugee influx during the Balkan crisis. The attacks decreased as migration numbers fell.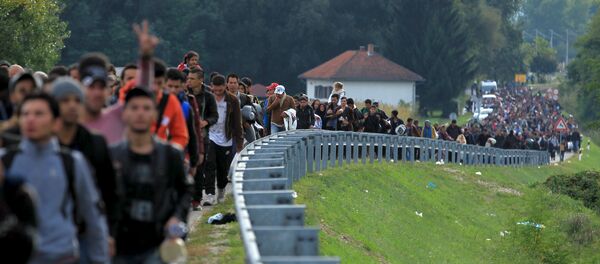 16 October 2015, 12:02 GMT
According to a Swedish Migration Agency prediction made in July, the country originally expected 66,000 to 80,000 asylum seekers in 2015. The current number of refugees for 2015 has exceeded 95,000, the agency said on Monday.
Europe is currently struggling to manage a major migration crisis. Over 710,000 migrants arrived in the European Union during the first nine months of 2015, according to the EU border agency Frontex.