WASHINGTON (Sputnik), Leandra Bernstein — The long-term outlook for global energy demand is positive despite recent declines in consumption and prices, Eurogas President Gertjan Lankhorst told Sputnik.
"Through 2040 to 2050, energy demand in the world will simply double," Lankhorst asserted.
Since early 2014, oil and natural gas prices have remained low with decreased world energy consumption. World economic growth, largely dependent on energy supplies, is expected to remain slow in 2016, according to projections by the International Monetary Fund.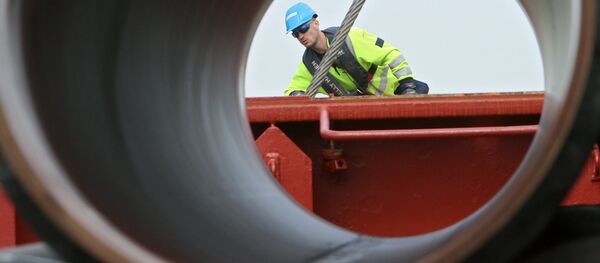 23 October 2015, 21:59 GMT
Despite the short-term outlook, Lankhorst sees a rapidly growing world population, and increased energy needs from Africa as opportunities in the future.
"There may be temporary factors affecting growth in demand for energy, but structurally it will be growth," Lankhorst said.
In the short term, demand for natural gas has declined by a fraction of a percent worldwide, but has remained historically high at 3.5 trillion cubic meters, according to the Energy Information Agency.
Eurogas is an association representing the European gas wholesale, retail and distribution sectors. It is comprised of 44 companies and associations from 24 countries, according to the Eurogas website.