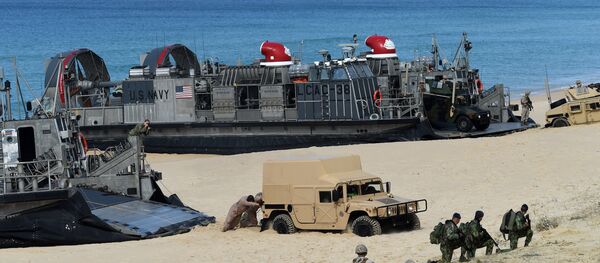 21 October 2015, 12:45 GMT
MOSCOW (Sputnik)
–
On Wednesday, NATO began its largest military exercise in the last 13 years, in order to test the alliance's ability to respond to threats. The drills involve over 36,000 troops from 30 NATO and partner countries.
"NATO is outdated and needs to be dissolved. The recent agreement with Iran on its nuclear program and history shows us that diplomacy and political solutions are what solves conflict, not military might. It's time to invest more in diplomatic tools rather than waste precious resources on military maneuvers and war toys," Martin said.
The ongoing exercises are the second phase of a major NATO drill and will last until November 6. The second leg is being held in southern Europe – Spain, Italy, and Portugal – as well as in the Mediterranean Sea and the Atlantic Ocean, and will comprise air, land and maritime forces.
The first phase of the drill started on October 3 and lasted two weeks. It took place in Canada, Norway, Germany, Belgium and the Netherlands.