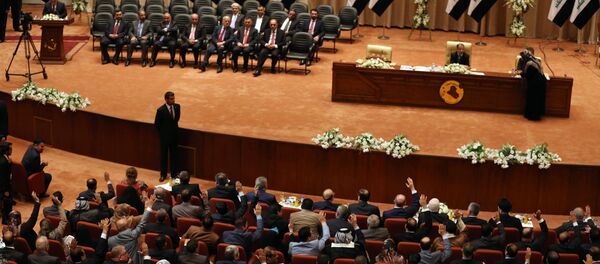 22 October 2015, 14:14 GMT
MOSCOW (Sputnik)
–
On Wednesday, a member of Iraq's State of Law Coalition told Sputnik the country's parliament was planning to vote on the issue of requesting the support of the Russian Aerospace Forces in fighting Islamic State (ISIL) by the end of October.
"We have only one criterion here: [to asses] to what extent such request corresponds with national interests of our country and its residents, and primarily the interests in security," Matvienko told the Russian Argumenty i Fakty newspaper.
On September 30, Russia launched precision airstrikes against ISIL targets in Syria bordering Iraq following a request from Syrian President Bashar Assad. Russian Deputy Defense Minister Anatoly Antonov said earlier that Baghdad had not requested similar assistance.
Matvienko said Russia was seeking cooperation in the framework of a single international coalition in fighting with terrorists and noted "specific advances in coordination of actions among defense ministries."
Russia and Iraq, alongside Iran and Syria, created in late September the Baghdad Information Center to coordinate military actions against the ISIL extremist group.