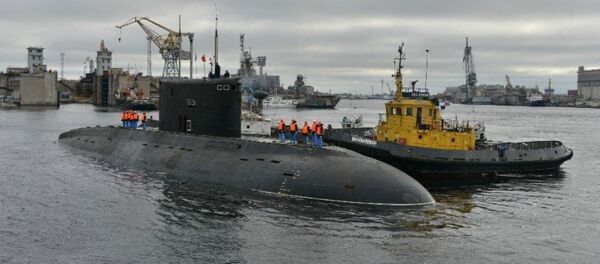 9 October 2015, 18:01 GMT
MOSCOW (Sputnik)
–
Ten Buyan-M class missile corvettes armed with Kalibr cruise missiles will join the Russian Navy by the end of 2019, Navy Deputy Commander Rear Adm. Viktor Bursuk said Friday.
The Navy previously said that it planned to receive six such warships.
"By the end of 2019, the entire series of these ships will be built, which is about 10," Bursuk said, speaking on the Rossiya-24 television channel.
Buyan-M is a 950-ton displacement ship that is 74 meters (243 feet) long with a top speed of 45 kph (28 mph). Among other armament elements, the vessel has eight vertical launch tubes holding 3K14 Kalibr or older missiles models. The ship can carry the Kalibr missiles that were used by Russia against Islamic State militants earlier this month.
Russia is currently conducting a $325-billion rearmament program to modernize 70-percent of its military by 2020.