Belarus needs weapons systems to defend itself from a militarizing Poland, the country's defense minister Andrei Ravkov said on Thursday, arguing that his country does not need a Russian military base.
Belarusian President Alexander Lukashenko was previously said to be in talks with Russia over a proposed airbase in the country, although he later denied it happening, saying that Belarus needs missiles more than airbases. Lukashenko went on to win in the country's presidential elections on October 12 with over 84 percent of the vote. Following the elections, European Union sanctions against Belarus were lifted.
"What is the point of putting an airbase on Belarusian territory? For now, there is no point. Our thoughts are these: our neighbors, especially the newly elected president of Poland, he is asking NATO and they agreed, to put four bases of various use, including aviation, in the immediate vicinity of the Belarusian border. And the answer is simple: maybe we will take some sort of means of destruction which can in good time and at the right place strike these objects? That would be much more effective than an airbase," Ravkov said.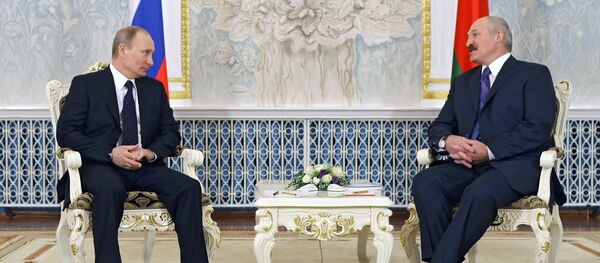 11 October 2015, 09:53 GMT
Lukashenko previously expressed concern about NATO activities around Belarus, and criticized Russia for not providing enough defense support. He later spoke out against having a Russian air base in the country, saying that Russian aircraft can take off from Russia's Smolensk, across the border from Belarus, with the same success.
In terms of missile systems, Belarus has developed a long-distance multiple rocket launcher system called Polonez ("Polonaise") together with China, which exceeds the capabilities of known similar Russian systems.