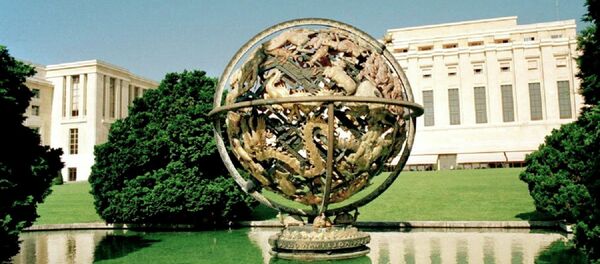 23 October 2015, 07:38 GMT
MOSCOW (Sputnik) – The United Nations Day has been celebrated on October 24 since 1948. UN Day marks the anniversary of the entry into force in 1945 of the UN Charter.
"To help mark the 70th anniversary of the United Nations, more than 300 iconic monuments, buildings, landscapes, museums, bridges, and other landmarks in more than 75 countries across the globe will be lit up blue — the official colour of the United Nations — on UN Day, 24 October 2015," the United Nations announced on its website.
The landmarks that have joined the campaign include the Great Pyramids of Giza in Egypt, the statue of Christ the Redeemer in Rio de Janeiro, the Empire State Building in New York, the Leaning Tower of Pisa in Italy and Russia's Hermitage Museum.
The United Nations was established after World War II, on October 24, 1945, to promote international cooperation and peace and prevent conflicts.
The creation of the organization was negotiated by the Soviet Union, the United States, the United Kingdom and China.
Originally, the United Nations had 51 member-states. The organization currently includes 193 member-states and 2 observer nations.