Airstrikes on Wednesday struck IS-controlled oil refineries, command and control centers and transportation nodes in the Omar oil field, according to Operations officer Major Michael Filanowski.
Coalition spokesman Colonel Steven Warren said the attack hit 26 targets, making it one of the largest set of strikes since the air campaign was launched last year.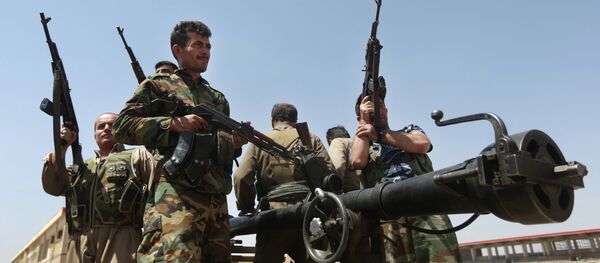 22 October 2015, 20:50 GMT
The refinery generates between $1.7 and $5.1 million per month for the Islamic State terror group, the Associated Press reports.
"It was very specific targets that would result in long-term incapacitation of their ability to sell oil, to get it out of the ground and transport it," Filanowski said.
The Islamic State seized a number of oil refineries and other infrastructure in Iraq and Syria as it sought to finance a self-sufficient state.
The group is now in control of just less than a third of Iraq and Syria. Coalition forces continue to launch airstrikes in support of allied ground forces in both countries.
Islamic State fighters who are withdrawing from towns often litter much of the area with booby traps, and launch counterattacks on advancing Iraqi forces looking to clear the city and assume control.