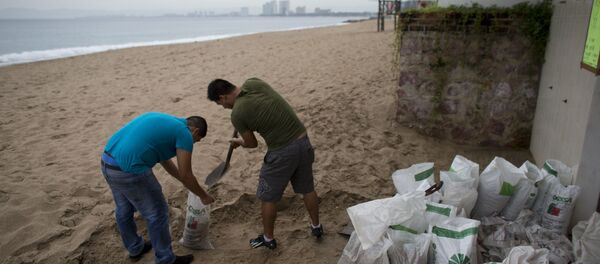 24 October 2015, 03:35 GMT
MEXICO CITY (Sputnik)
–
Hurricane Patricia, which made landfall on Mexico's Pacific coast on Friday, has weakened from Category 5 to Category 4, according to the US National Hurricane Center (NHC).
"I insist that we can not weaken our attention. The most dangerous part of the hurricane is only entering the national territory, and at the same time rain is expected on the Pacific coast and in various states in the center and northeast of the country," Pena Nieto said, as broadcast by the local television.
The hurricane, which the Mexican authorities have called "the most dangerous storm in history," appears to not have caused any severe damage so far.
A state of emergency was declared in 56 Mexican municipalities as the hurricane approached the country's coast. Thousands of people have been evacuated.
According to local authorities, over 6,300 people have been placed in temporary shelters amid the hurricane.
Patricia had winds of about 321 kilometers per hour (about 200 miles per hour) as it approached Mexico, which then decreased to 209 kilometers per hour, according to NHC.