Polling suggests that the ruling moderate right Civic Platform-Polish People's Party coalition is set for defeat by its main opponent – the nationalist right Law and Justice party (PiS), chaired by veteran politician and former Prime Minister Jaroslaw Kaczynski. 
Polls suggest that PiS could trounce their incumbent opponents by double digits (running at 32-36% compared with 20-27%), with five smaller parties also set on making it into parliament, including United Left (9%), the pro-Brussels Modern Party (8%), the populist right Kukiz'15 (6%), the conservative libertarian KORWiN party (6%) and the Polish People's Party (running at 5%).
Observers suggest that Poles are disgruntled with the pro-Brussels, pro-Berlin government of Civic Platform Prime Minister Ewa Kopacz, citing loud political scandals including the 'Waitergate' wiretapping scandal, incompetence and shady contracts with foreign banks and businesses said to exploit Polish workers. Kaczynski, meanwhile, has nominated the less combative Beata Szydlo for the prime minister's post.
PiS Victory Bodes Shift in Poland's Policy Vis-à-vis Brussels, Berlin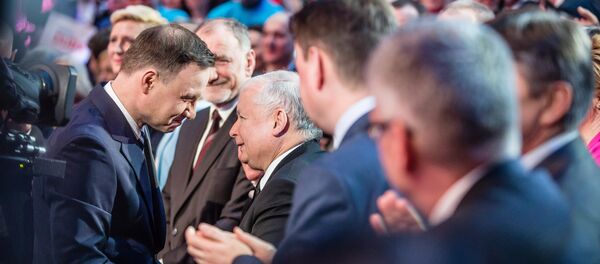 28 September 2015, 10:07 GMT
Citing Poland's demographic, economic and military-strategic potential, The Economist
warns
that a victory for the PiS could usher in "significant" changes to the geopolitical landscape, with "outsiders, especially in Berlin and Brussels, dread[ing] the thought of having to deal with Mr. Kaczynski."
Commenting on the prospects of a PiS victory, Reuters too suggests that the elections could put Warsaw's ties with Brussels and Berlin at risk.
The list of problems to be faced by Brussels in the event of a PiS victory is long and multifaceted, based primarily on the party's ideology of promoting what it perceives as the country's national interests before common European interests. In this way, the PiS threatens to upset the applecart of the Civic Platform government's policy of close cooperation with both Brussels and EU powerhouse Berlin.
This would include challenging Brussels in attempts to close Poland's polluting coal industry, which the PiS consider to be a pillar of the country's economy and a guarantee of its energy independence. It would also include joining forces with fellow Eurosceptics in the UK, where the Conservative government is planning to hold a referendum on exiting the EU in 2017.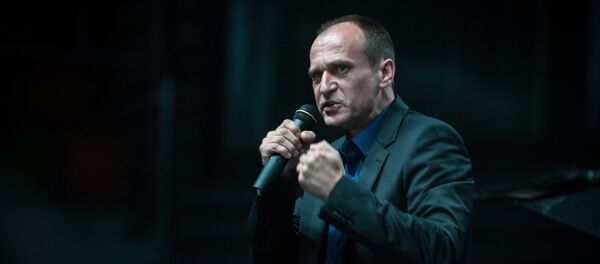 29 September 2015, 10:35 GMT
But the biggest Brussels-Warsaw rift which would emerge following a PiS victory would undoubtedly be the EU's policy on the refugee crisis which has hit Europe. Reuters recalls that Kaczynski's suggestions that Brussels has no popular mandate to accept refugees, together with his insensitive comments about the need to check migrants for diseases have drawn accusations from many observers that the PiS is using "ultra-nationalist, fascist imagery to fan hatred and fear."
As far as relations with Germany are concerned, the PiS has repeatedly criticized the current government for bowing to German business interests, PiS-backed president Andrzej Duda recently accusing Berlin of ignoring Warsaw's economic interests. The PiS also condemns Berlin's agreement with Moscow on the Nord Stream II gas pipeline deal, which the party worries will undermine Poland's strategic interests and bring Germany and Russia closer together. Finally, the PiS has shown irritation over Berlin's resistance to proposals to station American troops and additional heavy equipment in eastern Poland. 
Political bad blood is also expected to have some impact, with Kaczynski's personal conflict with European Council President Donald Tusk, the former Civic Platform prime minister, expected to play a role in cooling Brussels-Warsaw relations
Russia: Hoping That Things Don't Get Any Worse
Openly contemptuous of Russia long before the crisis over Ukraine in 2014, a PiS led Polish government might be expected to further strain relations with Moscow. Kaczynski played an instrumental role in attempts to block an EU cooperation deal with Russia, and openly supported 2004's Orange Revolution. Moreover, despite overwhelming evidence to the contrary, the politician has repeatedly suggested that Russia 'assassinated' his brother, Lech, who died in a plane crash in Smolensk in 2010.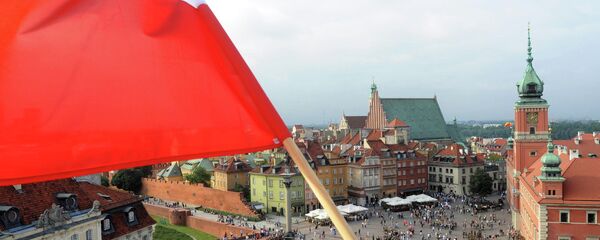 24 October 2015, 13:35 GMT
However, it was under the Civic Platform government that the Maidan revolution occurred, and Civic Platform politicians, including Tusk, appear to have been more heavily involved in efforts in Brussels to try to lure Ukraine into signing an association agreement with Brussels in the lead-up to Maidan. Hence, relations are already at such a low point that it is unclear whether and how they can get much worse.
Russian newspaper Rossiyskaya Gazeta attempted to put a brave face on things, suggesting that the new government "will not significantly change Warsaw's relations toward Russia." The paper pointed out that in the course of the campaign, neither of Poland's main parties have offered any "clear strategy on the issue of future cooperation" with Russia. "In the final leg of the race, neither of the country's two leading parties have been able to answer the question on how to develop relations that are currently deadlocked," RG noted.
Russian analysts from Parlamentskaya Gazeta have been giving themselves headaches trying to figure out what Szydlo meant when she said at a recent television debate that Russia "is a partner…we would like to see Russia as an economic partner, but we are fully aware that Russia is first and foremost an adversary. We must remember that wise economic policy and diplomacy can be very helpful on this issue." It's entirely possible that the PiS candidate's vagueness was deliberate.
Ukraine: Fears That 'Unbreakable Bonds of Friendship' Could Be Broken
Meanwhile, in Ukraine, despite declarations by Kiev's political establishment that "the intensity of Ukrainian-Polish ties will only grow" following elections, serious analysts, even those supporting Ukraine's 'Euro-Atlantic aspirations', suggest otherwise. 
Ukrainian media have complained that in the course of the campaign, virtually all of Poland's candidates seem to have deliberately avoided the topic of Ukraine.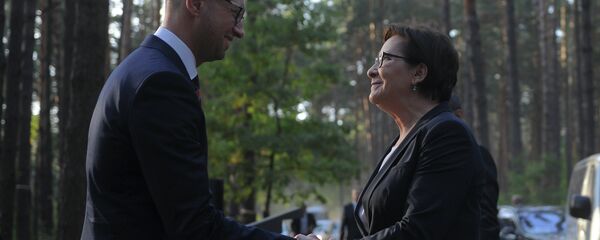 23 October 2015, 15:03 GMT
Moreover, in a recent exposition on the subject, Institute of World Policy director Alena Getmanchuk
explained
that the Polish political elite is growing increasingly disenchanted with, distrustful of and irritated with Ukrainian authorities, particularly over Kiev's tendency to glorify the Ukrainian Insurgent Army, responsible for the deaths of tens of thousands of ethnic Poles during World War II.
With Brussels managing to get along with a PiS government in the past, and Moscow used to strained relations with Warsaw, no matter who is in charge, it may be that Kiev ultimately has the most to lose following Sunday's elections. According to Getmanchuk, today's PiS has been purged of "people who have an understanding of Ukraine's strategic value." Moreover, according to the analyst, there are no longer enough people in the PiS establishment willing to 'forgive' post-Maidan Kiev for its glorification of historical figures who murdered so many Poles.