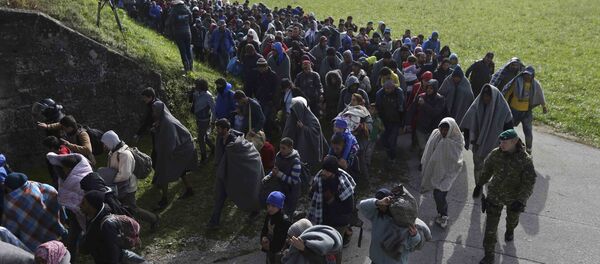 21 October 2015, 05:57 GMT
Slovenian Secretary of State for the Interior Bostjan Sefic claimed on Friday that the Croatian authorities are sending migrants across their shared border by river, after the Slovenian authorities imposed restrictions at border crossings.
"Croatia is sending migrants across the green border unannounced and in a disorganized manner, without compassion for fellow human beings. They deliberately send them towards the river, while trying to shift all the burden of responsibility onto Slovenia," said Sefic.
At a press conference on Friday, Sefic showed a video taken by Slovenian police using a thermal night vision camera, which they claim shows migrants being transported by train to Kljuc Brdovecki, a train station by the River Sutla, which forms part of the border between the two countries. 
The footage, filmed on the night of October 20, then allegedly shows the migrants and refugees leaving the train and being directed towards the border by Croatian police. When they reach the River Sutla, many of them decide to swim across the water. 
The footage taken by a Slovenian police helicopter, and published online by the Slovenian government.
"The Croatian authorities did not try and stop them, or direct them to an appropriate place to cross the border," said Sefic, who said that children were among those who crossed the freezing water.
They didn't even send them to a bridge, our police helicopter did that with its lights."
The Croatian Interior Ministry denied that its police had sent migrants and refugees to the river, and said the migrants were independently seeking their own way to cross the border, after Slovenia imposed restrictions at border crossings.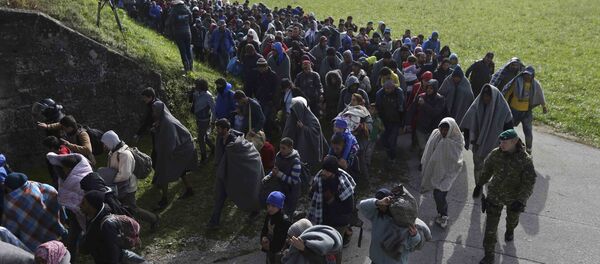 20 October 2015, 13:02 GMT
"Croatian has offered Slovenia cooperation and assistance from the very beginning to handle the waves of migrants coming towards its borders, in the form of transporting them directly to Sentilj [on the border with Austria] by train," said the ministry, which announced on Friday that 223,935 migrants and refugees had entered Croatia since September 16.
On October 16 the Slovenian authorities put a halt to cross-border rail transport from Croatia, due to the number of migrants and refugees seeking to enter the country to get to Western Europe. On Friday the Interior Ministry announced that 50,410 migrants had passed into Slovenia since the beginning of the migrant crisis.