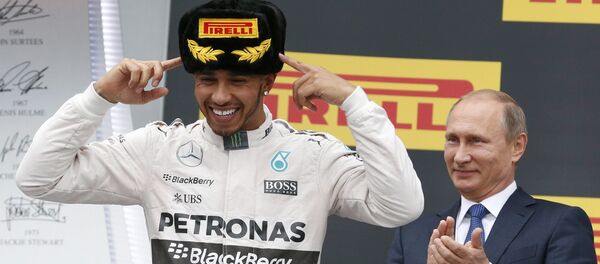 12 October 2015, 14:17 GMT
Bernie Ecclestone has revealed his admiration for the leadership qualities of Russian President Vladimir Putin in an interview to a Formula 1 outlet devoted to the magnate's jubilee.
During the conversation an interviewer referred to portraits of various famous personalities hanging on the walls of the F1m's chief office, including a portrait of Vladimir Putin, and asked about the people who impress him the most.
Answering the question, Ecclestone named Mr. Ferrari and Colin Chapman among others. At the same time he claimed that there are no leaders in Europe comparable to Vladimir Putin regarding his leadership qualities, and he suggested that the Russian president should rule the entire continent to fulfill his potential.
"Mr. Putin is wasting his time in Russia. He should run Europe — completely. Because nobody else is [capable of it]!" Ecclestone claimed.
Earlier this year, Vladimir Putin reached an agreement with Ecclestone to hold the Russian Grand Prix in Sochi in the near future. The F1 chief claimed that as long as he's alive, the Grand Prix will be held in Sochi.