MOSCOW (Sputnik) — President Bashar Assad proposed on Sunday that Russian business, including oil companies, should actively cooperate with Syria and expressed hope Russia would help rebuild the war-torn country, a member of a Russian delegation in Damascus said.
"[Assad] specifically underlines that in rebuilding Syria the Syrian people rely on Russia's help. [He] proposes all companies to cooperate with Syria," Russian Communist Party member Alexander Yushchenko told RIA Novosti.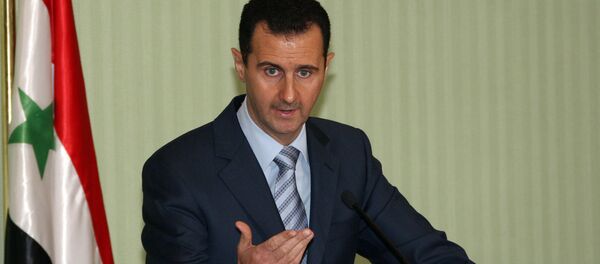 25 October 2015, 07:44 GMT
Yushchenko also said Syria was seeking cooperation with Russia in oil sphere beyond existing oil fields prospecting contracts.
Sergei Gavrilov, also a Russian delegation member in Syria, said Assad expressed hope Russian Deputy Prime Minister Dmitry Rogozin would visit Syria to help the government cope with water supply problems, humanitarian aid extension and development of oil and gas fields.