MOSCOW (Sputnik) — The authorities are taking measures to restrict Salafis' access to migrants, Minister of Internal Affairs of Bremen Ulrich Maurer said as quoted by the Focus newspaper.
"In recent weeks, we have registered an increase in agitation attempts by Salafis [an ultra-conservative orthodox movement within Sunni Islam] in refugee centers," Maurer said.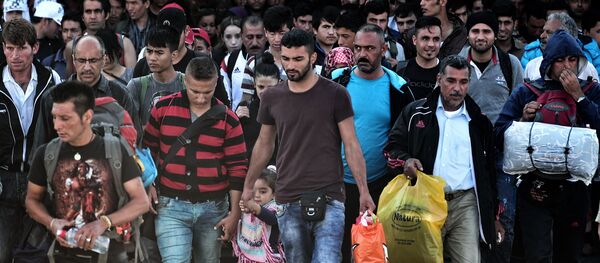 18 October 2015, 09:28 GMT
Maurer said Salafis travel from one center to another giving food and prayer rugs to people who know Arabic.
According to Federal Intelligence Service, Salafis may pose threat to people, they are under surveillance.
The European Union is currently managing a massive refugee crisis, as hundreds of thousands of people flee conflict-torn regions in Syria, seeking asylum within the bloc. According to EU border agency Frontex, over 710,000 refugees have arrived in the bloc since the beginning of 2015.
Germany as one of the main destination for migrants in Europe, is expected to accept over 1.5 million refugees by 2015.