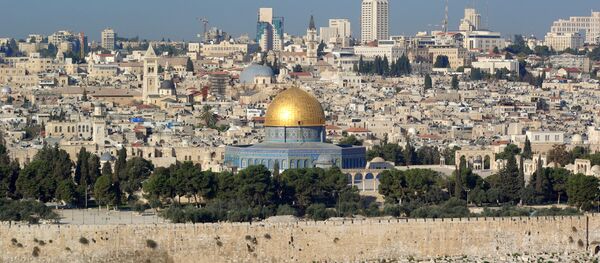 19 October 2015, 15:07 GMT
TEL AVIV (Sputnik) — A renewed violence between Palestinians and Israelis flared amid fears Tel Aviv is planning to revise the status quo at the Temple Mount, which houses the Al-Aqsa mosque, Islam's third holiest site. Current rules governing the temple do not allow non-Muslims to worship at the site, but Israeli forces conduct regular raids citing the need to protect Jewish sightseers.
"Israel is interested in installing video cameras all over the Temple Mount. Firstly, this measure will refute the claim that Israel is changing the status quo. Secondly, it will show where the provocations come from and will enable to timely prevent them," Netanyahu said at a cabinet meeting.
A series of measures to ease tensions around the Temple Mount, including video surveillance, was first announced by US Secretary of State John Kerry mediating talks between the conflicting sides. Earlier this week, the US diplomat met with Netanyahu in Berlin. Kerry also held a meeting in Amman with Palestinian Authority President Mahmoud Abbas and Jordan's King Abdullah II.