MOSCOW (Sputnik) — Some 100 activists supporting refugees' rights threw smoke bombs at police lines near the London station of Eurostar, a high-speed railway connecting the British capital with Brussels and Paris, a police spokesman said on Sunday.
On Saturday, protests in London and Paris occurred to attract the attention to the problems of migrants. In London the activists tried to break through a police cordon and to get to the Eurostar station.
"Some protesters began to throw items at police, including smoke bombs," the police spokesman said, as quoted by The Guardian.
The newspaper added that the protesters held a banner calling for closure of British detention centres for migrants, including Yarl's Wood in southeast England.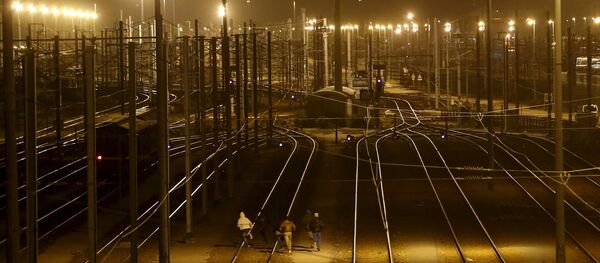 19 October 2015, 09:59 GMT
The Eurostar trains move through the Channel Tunnel that was used by at least 37,000 refugees in their efforts to reach the United Kingdom this year, according to the Eurotunnel security service.
Europe is currently struggling to find a solution to the large-scale migrant crisis, as thousands of refugees continue to flee conflicts and poverty in the Middle East and North Africa.
Yarl's Wood is one of 13 detention centres for immigrants in the United Kingdom that houses tens of thousands of mostly women awaiting immigration clearance.