Jabhat al-Nusra commander known as Muhajer was eliminated near Hama in the north-east of Syria.
"Commander Ali al-Turki, known as Muhajer, was eliminated, he was a Turkish citizen," the source said.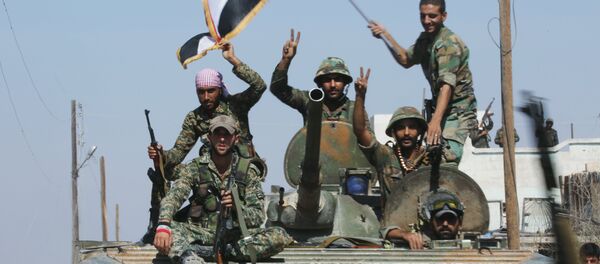 24 October 2015, 14:09 GMT
Jabhat al-Nusra or the Nusra Front is an al-Qaeda branch operating in Syria fighting against the Syrian government.
On Saturday, a source confirmed to Sputnik that the leader of Jabhat al-Nusra, Egypt-born Abu Suleiman al-Masri, had been killed in Aleppo. The terrorist was killed during a fight with the Syrian army near the Tal-al-Karsani village outside Aleppo.
The Syrian army's first major October offensive began in Hama, where the army liberated at least 10 villages from terrorists and moved north toward the Idlib province.
In October, the Syrian army, with Russian air support, started to advance to the east and north, pushing the front line further away from Latakia and freeing more villages from jihadists.
On September 30, Russia began to conduct pinpoint airstrikes at terrorist positions in Syria at President Bashar Assad's request.