MOSCOW (Sputnik) — German police used water cannons against thousands of demonstrators protesting against Islamic radicalism in the western city of Cologne, the RT television channel reported Sunday.
Police have deployed 3,500 officers, water cannons and a helicopter as they expected up to 23,000 to attend the rally, according to the German Bild newspaper.
The anti-Islamization Pegida movement in Cologne has also registered a rally for the afternoon, the newspaper reported.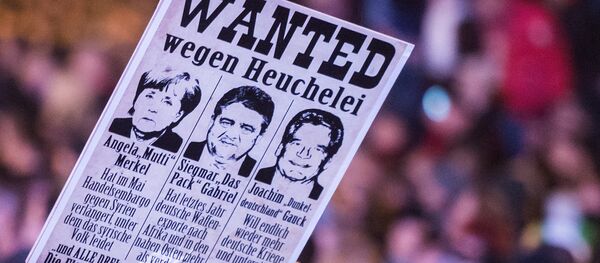 20 October 2015, 13:55 GMT
A number of counter-demonstrations and events are due to take place along with the rally, according to the media outlet.
The first Hogesa rally, which took place on October 26, 2014, turned into clashes with police. Some 50 police officers were wounded during the violence.
Far-right movements are gaining support in Germany amid rising anti-migrant sentiment as Europe faces its biggest refugee crisis since World War II.
Earlier this month, Henriette Reker, a pro-refugee mayoral candidate in Cologne fell victim to a suspected xenophobic stabbing attack one day ahead of the vote. Reker was later elected mayor of the western German city.