According to Ronald L. Perrilloux, an executive of Lockheed Martin, Saudi Arabia is being unfairly accused of a negative human rights record, most which is "patently false." The Lockheed Martin executive added that "hostile media reports" shape the views of US Congress, the Intercept said.
Although Democrats in the US Senate were against the transfer of arms to Saudi Arabia, worried by the rising civilian death toll, Jeffrey Kohler, one of Boeing vice-presidents, argued for the opposite, stating that more arms deals between the United States and Saudi Arabia were needed.
In other words, the logic of these men is following: Saudi Arabia doesn't have a bad human rights record, reports about Saudi misdeeds are false and the Kingdom needs more US-manufactured weapons.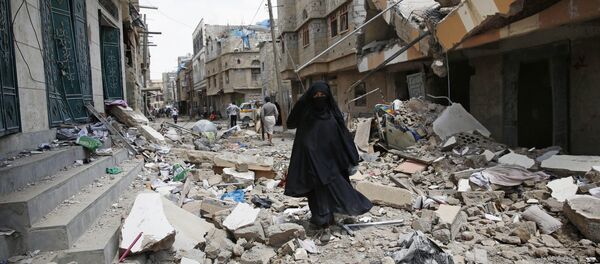 9 October 2015, 15:47 GMT
Of course these executives would say this, considering that their economic interests depends on arms deals with the Saudi Kingdom. Just last week, the US government approved a potential sale of up to four warships to Saudi Arabia. Guess who's the main contractor of the potential $11.25 billion arms deal? None other than Lockheed Martin.
Meanwhile, Boeing has been the chief contractor of the Royal Saudi Air Force (RSAF). The company signed a record $29 billion arms package with the RSAF in December 2011.
With the help of advanced US-made weaponry, Saudi Arabia and its allies have been bombing rebels in Yemen since March 2015. The Saudi Air Force uses F-15 planes, manufactured by Boeing, while the air force of the United Arab Emirates prefers Lockheed Martin-made F-16 jets to carry out airstrikes in Yemen.
According to an Amnesty International report, the Saudi-led airstrikes struck apartments, markets refugee camps and even a couple of wedding parties, killing at least 100 people, including children, the Intercept reported.
Despite a high number of civilians killed, the two US companies continue to provide their weaponry to Saudi Arabia and other Gulf nations. As the Middle East is a quickly growing arms market, the companies aren't willing to lose their share of profit especially when it comes to making business deals with Saudi Arabia, which spent around $6.4 billion on weapons in 2014 alone.
"More often than not, it's military relationship that will keep the relations and the bonds between countries very strong," Kohler said, arguing that by providing Boeing-made fighter jets to Saudi Arabia his company brings more stability to the Middle East.
Sure, sure, Mr. Kohler, military arms bring more peace to the Middle East, especially when Saudi Arabia might end up paying a total of $40 billion to Boeing and Lockheed Martin.