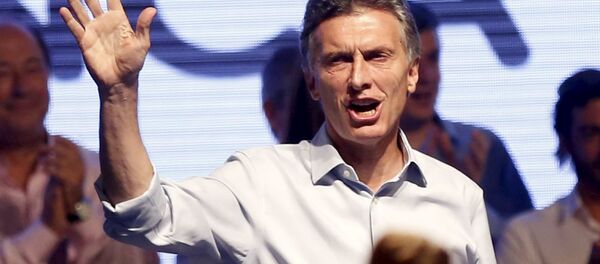 26 October 2015, 03:29 GMT
BUENOS AIRES (Sputnik) — The PRO leader, governing the autonomous city of Buenos Aires, forced President Cristina Kirchner's successor Daniel Scioli into a second round in the presidential election on Sunday. With some 97 percent of the votes counted, 34.4 percent of the voters support Macri, while 36.8 percent support Scioli. A presidential candidate must gain the support of at least 45 percent of voters to win.
"Macri's participation in the second round seems stronger than the party's results at the election in Buenos Aires [where the party obtained over 48 percent of the votes]," Bergman said, noting that the results promoted the PRO to a nationwide level.
He suggested that the party should now "build a national front, with which we could finally meet the expectations of the people."
Six candidates ran in the presidential elections, including the governor of Buenos Aires Province Scioli, Head of Government of the Autonomous City of Buenos Aires Macri and former San Luis Province Governor Alberto Rodriguez Saa.
Kirchner, who has served two consecutive presidential terms, cannot run again under the Argentinian Constitution.