A string of anti-government protests, organized by the Democratic Front opposition coalition, shook the small Balkan country over the past weeks. The latest gathering on Saturday saw police use tear gas on demonstrators, who called for Djukanovic's resignation and demanded that Montenegro stay out of the US-led NATO military bloc.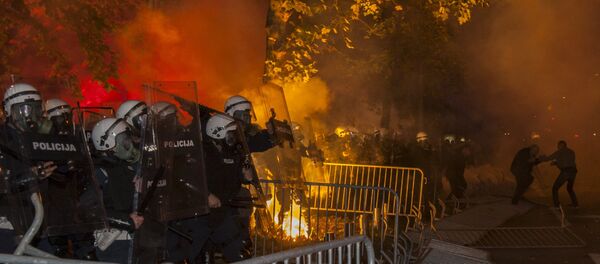 25 October 2015, 15:11 GMT
Neither Washington nor Brussels expected the current turn of events in Montenegro, Rudneva told RIA Novosti.
"It's hard to tell what will happen next. One gets the impression that Europe and the United States are somewhat puzzled with by the situation. Apparently, they didn't expect such mass protests and such the turn of events from opposition forces in Montenegro," Rudneva said.
The very few reports from mainstream US and European news agencies prove the point, Rudneva said, reminding that when a similar situation broke out in Ukraine both US and EU media agencies strongly supported anti-governmental forces.
"But right now, media is silent," Rudneva said.
EU countries, in particular, don't want to have another hotspot on the continent, especially considering the ongoing situation with refugees. The open support of the current Montenegrin government could lead to a further escalation of the crisis, the expert explained.