MOSCOW (Sputnik), Yulia Shamporova – In September, the Council of Europe Development Bank set up the Migrant and Refugee Fund in response to the large-scale migrant crisis in Europe. The initiative aims to fund transit and reception centers in European countries particularly hard-hit by the influx of refugees.
"The Bank [EIB] can look at the scope for expanding on existing operations working alongside EU Structural and Regional funding… We may also contribute to a new grant fund set up by the Council of Europe Development Bank. This could help member states set up reception and transit centers," the bank's representative stressed.
Earlier in the day, the EIB representative stated the financial institution was involved in negotiations with the EU financial ministers to address the challenges faced by the most affected countries — Greece and Italy — amid the migrant crisis raging in Europe.
"In the shorter term in Europe, the EIB and President [Werner] Hoyer are in close discussion with EU Finance Ministers, the 28 governors of the Bank, to agree measures that will address the challenges faced by the most affected countries Greece and Italy first of all. This would be focused particularly at the islands where the crisis is most severe," the bank's representative told Sputnik.
According to the representative, the financial institution will look for immediate support for lodgings and infrastructure, while documents of people arriving in the bloc are being processed.
"To this end we are already preparing concrete proposals on how we could respond both in the short and longer term. We are working with Member States, National Banks and other financial institutions such as the Council of Europe Development Bank to this end," the representative pointed out.
The EIB's support was incited by a 17-point action plan agreed during a Sunday EU summit on the Western Balkans migration route in Brussels.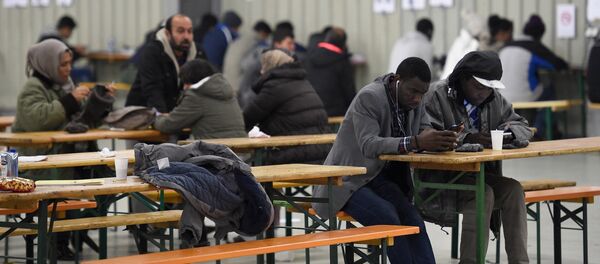 27 October 2015, 15:17 GMT
One of the plan's provisions aimed at tackling the refugee crisis in the region is close work with international financial institutions, such as the European Investment Bank, the European Bank for Reconstruction and Development and the Development Bank of the Council of Europe, which are ready to provide financial resources to back such countries as Greece and Italy among others in dealing with migrant exodus.
The European Union has been struggling to cope with the enormous refugee crisis, with hundreds of thousands of migrants fleeing to Europe to escape violence and poverty in their home countries.
Over 710,000 migrants arrived in the European Union during the first nine months of 2015, according to the EU border agency Frontex.