According to the source, residents of at least two villages had begun returning to their households to clear the rubble.
"Yesterday, the army advanced deep towards the Idlib province. We have liberated some 50 villages and took hold of an area of about 120 square kilometers [some 46 sq. miles]," a source from the Desert Hawks armed militia group told RIA Novosti.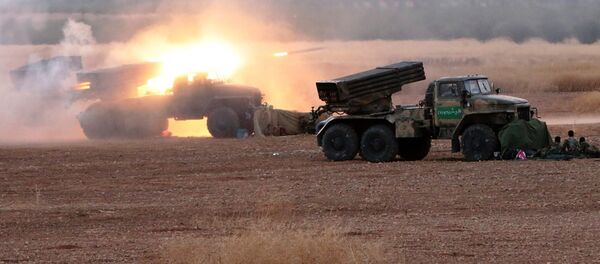 26 October 2015, 15:32 GMT
The Desert Hawks was formed at the start of the crisis in Syria four years ago, by retired Syrian army officer Mohamed Jaber. The unit consists of between 4 and 5 thousand people, comprised of fighters of various religions and from all regions of the country.  All of the actions of the militia are fully coordinated with the Syrian army, RIA Novosti reported.
Earlier, reports from the Iranian Fars News Agency suggested more than 800,000 Syrian refugees were expected to return to their homes, thanks in part to Russia's military operation in Syria. 
The latest data shows Russian fighter jets have destroyed 285 ISIL and al-Nusra Front targets in Syria over the past three days. The military operation started on September 30 after Syrian president Bashar Assad sent Russian authorities an official request.