BEIJING (Sputnik) – China accused the United States of threatening the country's security on Tuesday by illegally sailing the USS Lassen within 12 nautical miles of the artificially built Spratly Islands.
"The Pentagon is obviously provoking China…We should stay calm," The Global Times said late Tuesday, adding that an angry reaction would achieve the US goal of "irritating" Beijing.
The outlet further said Washington's goal is to display its presence, rather than a military standoff with China. It said however, that despite acting "tactfully," Beijing should "prepare for the worst."
"This can convince the White House that China, despite its unwillingness, is not frightened to fight a war with the US in the region," The Global Times concluded.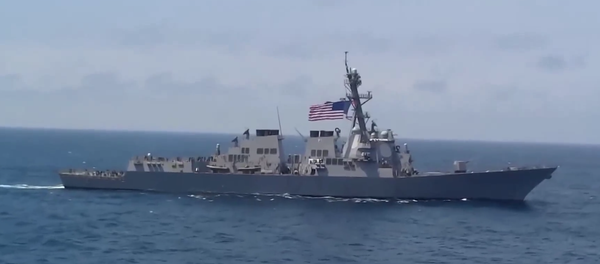 27 October 2015, 05:24 GMT
US officials claimed the destroyer's patrol was intended to ensure freedom of navigation in the South China Sea. The US Department of Defense said it would continue such naval exercises in the region.
China has been constructing artificial islands on the coral reef habitats of the Spratly Islands, claiming sovereignty over the land and a 12 nautical mile zone surrounding the islands. Countries located in and around the areas of the South China Sea, including the Philippines, Malaysia and Vietnam, have expressed competing claims to the disputed Spratly Islands.
Washington refuses to recognize the Chinese claims of sovereignty over the man-made islands and has repeatedly voiced concerns over Beijing's activities in the region.