TOKYO (Sputnik) — The base will be moved from Okinawa's highly-populated district in the city of Ginowan to the Henoko coastal area of Nago city, the ministry told the prefecture's authorities in a letter. The military will start readying a strip of the coast for construction work on Thursday.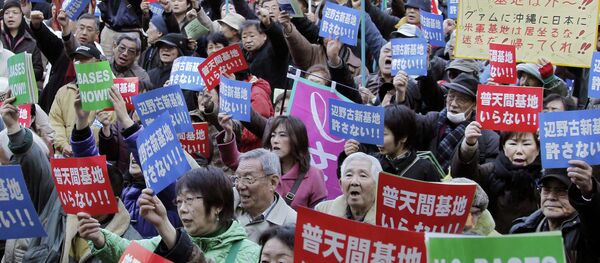 27 October 2015, 07:44 GMT
The Japanese military's controversial plan was given a go-ahead after the Land and Infrastructure Ministry voided Okinawa governor's decision to revoke his predecessor's approval of the relocation.
The relocation has been stalled amid protests against the continued US military presence in the country and environmental concerns that the new base will endanger local wildlife.
Okinawa governor Takeshi Onaga, who wants the base to be moved out of his prefecture, has vowed to challenge Tokyo's decision in court.
Over half of the 47,000 US troops deployed in Japan are based in Okinawa, which accounts for less than 1 percent of Japan's total land area.