BELGRADE (Sputnik) – Montenegrin Prime Minister Milo Dukanovic first accused Russia of playing an active role in organizing nationwide protests last week, which the Russian Foreign Ministry and the Kremlin spokesman dismissed.
"The Russian Foreign Ministry's statement expressing concern about the alleged excessive use of force against 'peaceful demonstrators'…confirms the merits of Prime Minister Milo Dukanovic's statements on the involvement of Russia in the protests against NATO," the Montenegrin government said late Tuesday.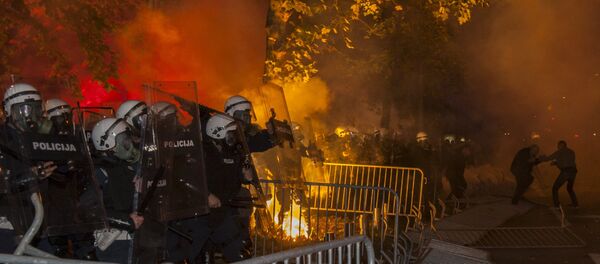 27 October 2015, 18:04 GMT
A string of anti-government protests, organized by the Democratic Front opposition coalition, have shaken the small Balkan country over the past weeks. The latest gathering on Saturday saw police use tear gas on demonstrators calling for the prime minister's resignation and demanding that Montenegro stay out of the US-led NATO military bloc.
On Tuesday, the Russian Foreign Ministry said Dukanovic did not provide concrete facts in a series of interviews accusing Moscow of alleged involvement in rallies. Kremlin spokesman Dmitry Peskov classified Dukanovic's attempt to "demonize" Russia "quite strange."