"We will do it again. We sail in international waters at a time and place of our choosing," an unnamed US official told AFP.
Defense expert Boris Podoprigora maintains that the warship deployment of warships is a common practice for Washington.
"The United States has often made similar moves under the pretense of a routine patrol mission. In reality this is an element of Washington's foreign policy strategy, better known as the 'show of flag.' It is meant as a reminder," Podoprigora told Radio Sputnik.
Nevertheless, the analyst believes, that the USS Lassen's patrol should not be a matter of concern for China or the international community. But there might be more to it, he admitted.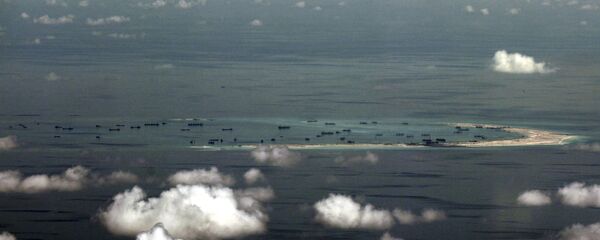 27 October 2015, 18:51 GMT
In recent months "the Chinese made several statements, which the Americans did not like. Primarily with regard to the Middle East and the US stance on the [contested] Diaoyu Islands (known as the Senkakus in Japan)," Podoprigora noted.
Washington usually maintains that Beijing and Tokyo have to settle the territorial dispute on their own.
"I've looked at reports in US media and, as far as I can tell, US officials have refrained from making similar statements lately. So the game is on and the guided missile destroyer is a part of it," the analyst observed.
Podoprigora doubts that the move will spark a major conflict.
"The USS Lassen's deployment does not mean that the US will turn to decisive actions. I do not think that the move will affect the whole complex of the Sino-American relations. Americans have no interest in escalating tensions, the Chinese will not provoke the Americans," the expert concluded.