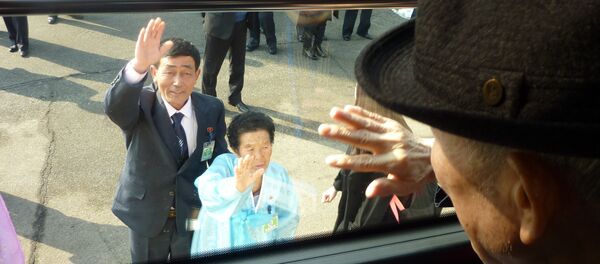 8 September 2015, 05:20 GMT
TOKYO (Sputnik) — The project to make 10 to 13-minute-long videos started in August 2015 and is expected to cost some $1.75 million, the Yonhap news agency reported. South Korea's Inter-Korean Cooperation Fund will finance the project.
Currently, over 66,000 South Koreans aged over 80 years old, have no means of keeping in contact with their relatives who live in the Democratic People's Republic of Korea.
The Red Cross initiate to record video messages is hoped will help people compensate somewhat for the lack of communication.
Meetings of the divided families have being held since the beginning of the 1980s. After the inter-Korean summit in 2000, Pyongyang and Seoul organized 19 rounds of meetings between relatives that had not seen each other for more than half a century. During this time nearly 19,000 people were able to meet their relatives.
The last meeting of divided families was held in February 2014. The Participants of this round were chosen in a random way by means of a lottery.