WASHINGTON (Sputnik) — Earlier in the day, Russia called on the US Embassy in Moscow to explain its claims of alleged Syrian civilian deaths that it attributes to Russian airstrikes.
"We have seen some information that would lead us to believe that Russian military aircraft did hit a hospital," Kirby told reporters on Thursday.
29 October 2015, 20:15 GMT
Kirby explained that US authorities have seen press reports on Russian airstrike causing civilian casualties, and are cognizant of similar claims of some Syrian civil society groups.
He added that the United States has "other operational information that leads us to believe that Russian targeting has not only not been focused on ISIL [Islamic State], but has in fact caused collateral damage, and some civilian casualties."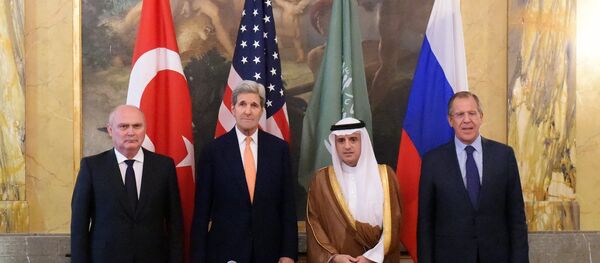 29 October 2015, 19:14 GMT
Asked to provide evidence, Kirby said he would not share intelligence or operational information.
Russian Foreign Ministry spokeswoman Maria Zakharova said on Thursday Russia has not received any official information from the West that would link deaths of civilians in Syria to Russian airstrikes.
Earlier in October, Syrian Ambassador to Russia Riad Haddad confirmed that the Russian airstrikes were carried out against armed terrorist organizations and not civilians.
On October 3, US military airstrikes destroyed a Doctors Without Borders (MSF) hospital in Kunduz, Afghanistan, that housed some 200 people. Thirty people, including 12 MSF staff, died in the attack.